Back Pain Center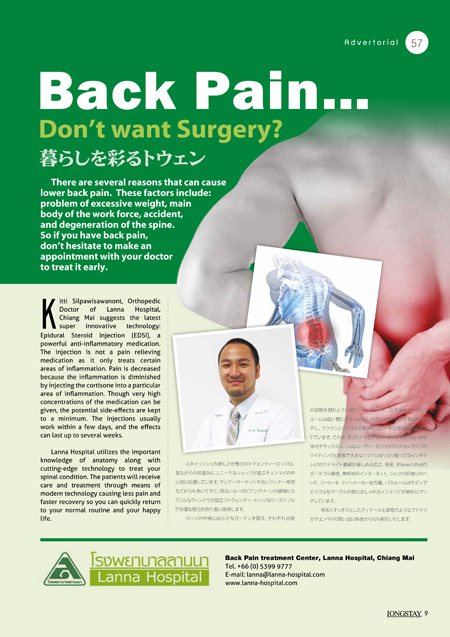 Back Pain…
Don't want Surgery?
There are several reasons that can cause lower back pain.  These factors include: problem of
excessive weight, main body of the work force, accident, and degeneration of the spine. So if
you have back pain, don't hesitate to make an appointment with your doctor to treat it early.
Mr.Kitti Silpawisawanont, Orthopedic Doctor of Lanna Hospital, Chiang Mai suggests the latest
super innovative technology: Epidural Steroid Injection (EDSI), a powerful anti-inflammatory
medication. The injection is not a pain relieving medication as it only treats certain areas of
inflammation. Pain is decreased because the inflammation is diminished by injecting the
cortisone into a particular area of inflammation. Though very high concentrations of the medication
can be given, the potential side-effects are kept to a minimum. The injections usually work
within a few days, and the effects can last up to several weeks.
Lanna Hospital utilizes the important knowledge of anatomy along with cutting-edge technology
to treat your spinal condition. The patients will receive care and treatment through means of
modern technology causing less pain and faster recovery so you can quickly return to your
normal routine and your happy life.
Back Pain treatment Center, Lanna Hospital, Chiang Mai
Tel. +66 (0) 5399 9777
E-mail: lanna@lanna-hospital.com
www.lanna-hospital.com
Click >>> Preview to PDF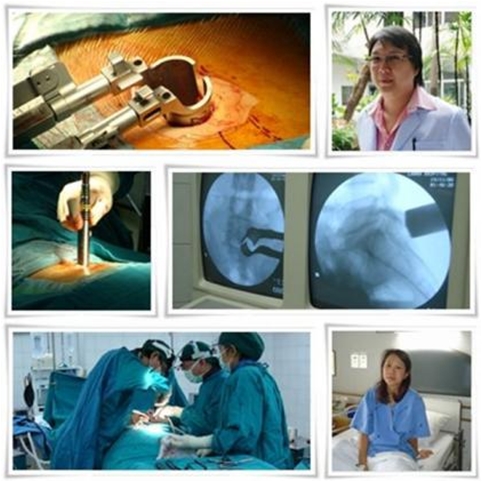 Minimally Invasive Spine Surgery (MIS)

Epidural Steroid Injection EDSI